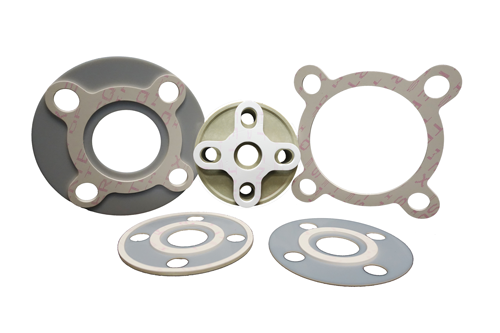 With industry leading engineering, Inertex® Reduced Area Gaskets achieve the ultimate in low-torque-to-seal applications. Designed for fragile FRP and plastic flanges, the sealing ring is placed precisely where it needs to be while maintaining the need to prevent outer flange rotation. Our OPRA® gasket  is cut from our SQ-S sheet material. Our LTC gasket, LTC-NR gasket, and OPRA/LTC HYBRID are custom engineered for the lowest allowable bolt loads in gasket design. You give us the available torque and we design a sealing solution.
Reduced Area Gaskets Flyer
Product Description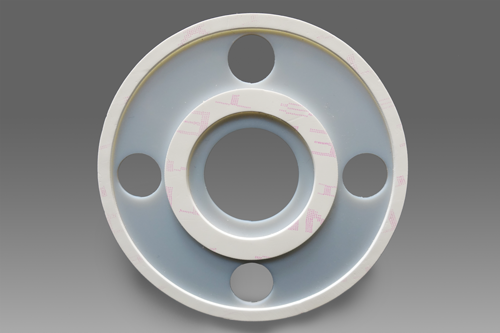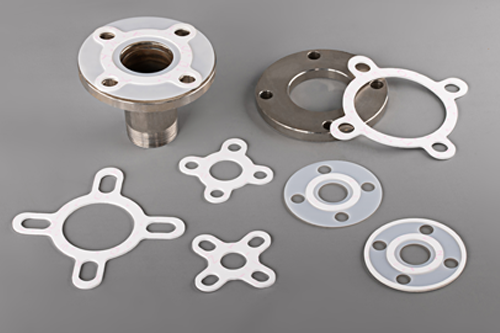 TECHNICAL INFORMATION:
TEMPERATURE RANGE:
-450°F (-268°C) to +600°F (+315°C)
PRESSURE RANGE:
Full Vacuum to 3000 psi (20.7MPa/207 Bar)
CHEMICAL COMPATIBILITY:
100% expanded virgin PTFE
0 – 14 pH
FDA COMPLIANT:
Meets FDA 21CFR177.1550
LOW CREEP AND COLD FLOW
NON-TOXIC, SILICONE-FREE
NON-CONTAMINATING
NON-PARTICULATING
NON-AGING IN SERVICE
REDUCED AREA GASKETS DESIGNED FOR LOW TORQUE APPLICATIONS
The LTC has two small strips of SQ-S material, inboard of the bolt circle, on both sides of a highly densified sheet of ePTFE. It replaces ring gaskets in applications where very low bolt loads are required. The LTC-NR design adds thin strips of material at the outer diameter. These strips resist flange bending and promote an even distribution of gasket stress on the inboard sealing strips.
OPRA® is cut from a single sheet and has material inboard of the bolt circle and around each bolt. Like the LTC-NR, the outboard material resists flange bending. Typically the area of an OPRA® gasket is only 1/3rd of a full face gasket. In other words, for the same bolt load, the gasket produces 3X the sealing stress.
You can depend on these high performance features:
Wide pressure and temperature range
Unsurpassed chemical compatibility
Excellent creep and cold flow resistance
Will not harden or deteriorate with age
Low coefficient of friction allows easy removal
Easily conforms to damaged or pitted flanges
Low compressive load to seal
Advanced engineering designs that seal when others fail
Professional engineering support
Size Availability
INERTEX® Reduced Area Gaskets are available from inventory for ASME Class 150 flat faced flanges in sizes ½" to 24″. Additional sizes and configurations are available upon request.
Custom Fabrication
INERTEX® Reduced Area Gaskets can be fabricated into nearly any style and shape of gasket including oval manways, ribbed heat exchangers, strips, plates, or others as required. Size is no limitation!