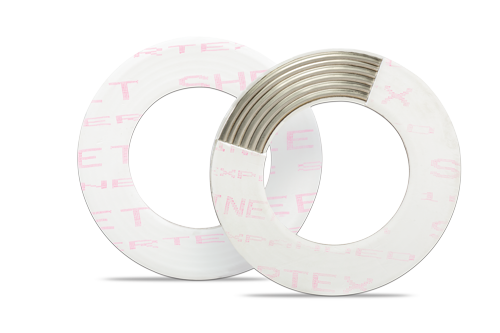 Designed and manufactured with a corrugated 316 stainless steel core encapsulated between two 1/16" ePTFE facings, our Inermet Gasket is a great choice for the most challenging sealing applications. Gasket stress is concentrated on the "peaks" of the insert while the corrugations store the energy of compression to provide resiliency for cycling conditions. Standard sizes available from stock and can be constructed in almost any shape or size. Additional insert materials are available.
Inermet Flyer
Product Description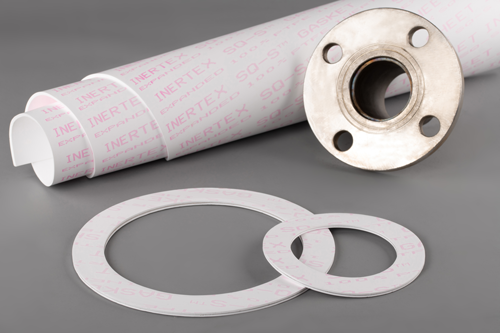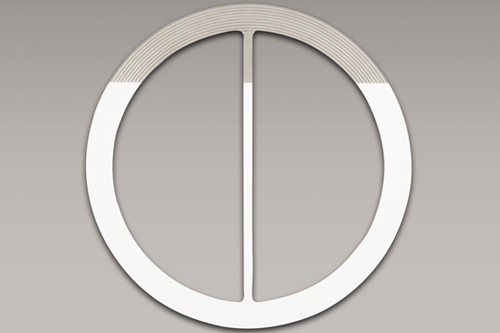 TECHNICAL INFORMATION:
TEMPERATURE RANGE:
-450°F (-268°C) to +600°F (+315°C)
PRESSURE RANGE:
Full Vacuum to 3000 psi (20.7MPa/207 Bar)
CHEMICAL COMPATIBILITY:
100% expanded virgin PTFE
0 – 14 pH
OXYGEN INDEX:
94.5% (without adhesive)
LOW CREEP AND COLD FLOW
NON-TOXIC, SILICONE-FREE
NON-CONTAMINATING
NON-PARTICULATING
NON-AGING IN SERVICE
A CORRUGATED GASKET THAT PROVIDES FOR AN EXTREMELY TIGHT SEAL!
The INERTEX® Inermet gasket improves high temperature and high pressure sealing performance (requires much less stress to seal than a spiral wound), resists the effects of cycling loading, reduces the required stress to attain and maintain a leak-free connection, improves blowout resistance, and is quickly and easily installed. Like all INERTEX® products, its soft sealing material is accommodating to less-than-perfect sealing surfaces. The corrugations boost gasket sealing stress and provide the resilience of springs to further retain compressive sealing forces. Custom shapes are available, including oval, rectangular, and ribbed for heat exchangers. While the metal insert is stainless steel, other options such as Hastelloy are available.
You can depend on these high performance features:
• Wide pressure and temperature range
• Unsurpassed chemical compatibility
• Excellent creep and cold flow resistance
• Will not harden or deteriorate with age
• Low coefficient of friction allows easy removal
• Easily conforms to damaged or pitted flanges
• Low compressive load to seal
• Multiple sealing peaks create higher gasket stress
• Resilient insert for cycling and vibration applications
• Can be made in almost any size or configuration
• Professional engineering support
Inermet Sizing: Inermet Ring Gaskets are available from inventory in ½" through 24" in both ANSI 150# and 300# flange sizes. Also, Inermet Gaskets can be fabricated into nearly any style and shape of gasket including oval man ways, ribbed heat exchangers, strips, plates, or others as required. Size is no limitation!