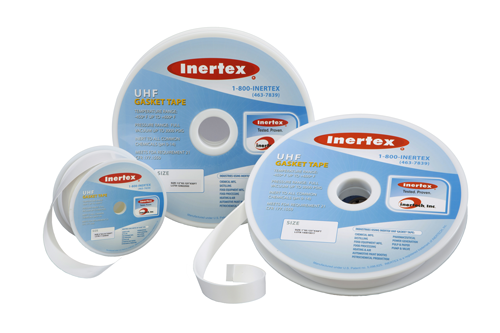 Our form- in- place "Full Face Gasket on a Roll" provides superior performance and convenience similar to our UHF Joint Sealant. It is soft and conformable with reduced creep and cold flow. The pressure sensitive adhesive and predetermined width makes installation simple with our "seamless overlap process", even when bolt holes are required. Excellent choice for sealing flanges where a full face gasket is needed.
UHF Gasket Tape Flyer
Product Description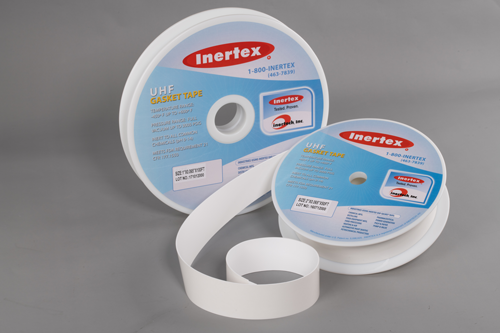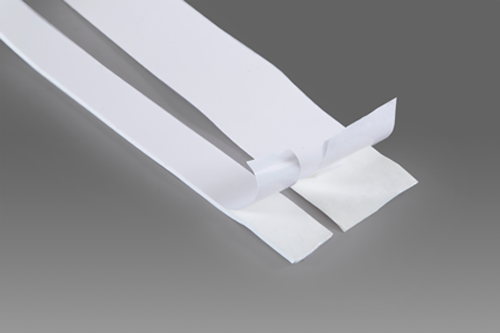 TECHNICAL INFORMATION:
TEMPERATURE RANGE:
-450°F (-268°C) to +600°F (+315°C)
PRESSURE RANGE:
Full Vacuum to 3000 psi (20.7MPa/207 Bar)
CHEMICAL COMPATIBILITY:
100% expanded virgin PTFE
0 – 14 pH
FDA COMPLIANT:
Meets FDA 21CFR177.1550
LOW CREEP AND COLD FLOW
NON-TOXIC, SILICONE-FREE
NON-CONTAMINATING
NON-PARTICULATING
NON-AGING IN SERVICE
OUR FORM-IN-PLACE
"FULL FACE GASKET ON A ROLL"
UHF (Uniformly and Highly Fibrillated) Gasket Tape provides a strong, highly compressible, leak-tight solution for both standard and nonstandard applications. Bolt holes can easily be punched into it where full-face sealing is required, which is just one reason it's become known as "Full-Face Gasket on a Roll". It offers the same creep relaxation and cold flow resistance of all our products.
You can depend on these high performance features:
Wide pressure and temperature range
Unsurpassed chemical compatibility
Excellent creep and cold flow resistance
Will not harden or deteriorate with age
Low coefficient of friction allows easy removal
Easily conforms to damaged or pitted flanges
Low compressive load to seal
Wide adhesive strip for easy installation for all shapes, vertical or horizontal
"Full Face Gasket on a Roll"
Professional engineering support
UHF GASKET TAPE SIZE CHART
| THICKNESS | 1/2″ | 3/4″ | 1″ | 1-1/2″ | 2″ | 3″ | 4″ | 6″ | 8″ |
| --- | --- | --- | --- | --- | --- | --- | --- | --- | --- |
| 0.010″ | X | X | X | X | X | | | | |
| 0.015″ | | | X | X | X | X | X | X | |
| 0.020″ | X | X | X | X | X | | | | |
| 0.031″ | | | X | X | X | X | X | X | |
| 0.040″ | X | X | X | X | X | | | | X |
| 0.065″ | X | X | X | X | X | X | X | X | X |
| 0.125″ | X | X | X | X | X | X | X | X | X |