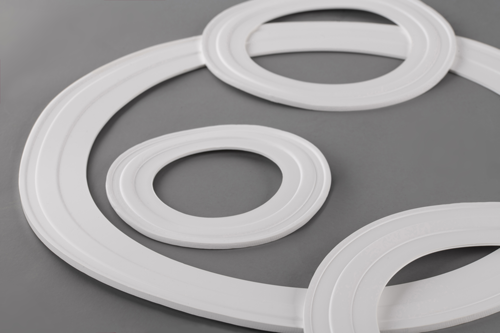 Our EZ Seal gasket is manufactured from SQ-S sheet material and is designed to provide a robust, leak tight solution for applications that require a lower bolt load. The design is configured around a central precompressed area on the ID and a narrow, uncompressed sealing ring that matches the raised face area on an ANSI flange. This design concentrates the gasket stress on the sealing ring while the precompressed areas add rigidity for easier insertion.
Product Description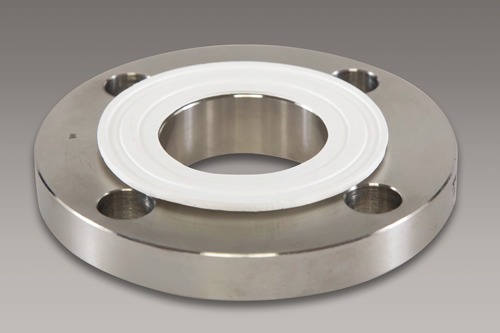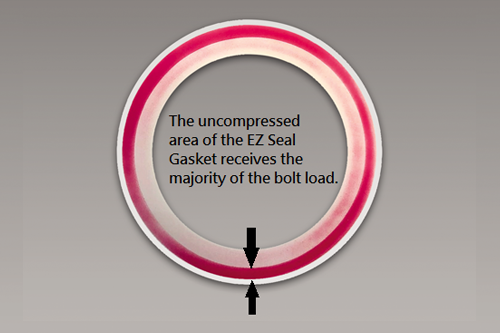 TECHNICAL INFORMATION:
TEMPERATURE RANGE:
-450°F (-268°C) to +600°F (+315°C)
PRESSURE RANGE:
Full Vacuum to 3000 psi (20.7MPa/207 Bar)
CHEMICAL COMPATIBILITY:
100% expanded virgin PTFE
0 – 14 pH
OXYGEN INDEX:
94.5% (without adhesive)
FDA COMPLIANT:
Meets FDA 21CFR177.1550
USP Class VI (unbranded)
LOW CREEP AND COLD FLOW
NON-TOXIC, SILICONE-FREE
NON-CONTAMINATING
NON-PARTICULATING
NON- DETERIORATING OVER TIME
THE INSERTABLE GASKET
The INERTEX® EZ Seal's exceptional low-torque-to-seal design makes it ideal for flanges that require low bolt loads. The precompressed areas focus the bolt load to the smaller seal ring area and results in a tighter gasket seal for a given bolt load. Like all Inertech, Inc. products it also resists creep relaxation and cold flow under service conditions.
You can depend on these high performance features:
• Wide pressure and temperature range
• Unsurpassed chemical compatibility
• Excellent creep and cold flow resistance
• Will not harden or deteriorate with age
• Low coefficient of friction allows easy removal
• Easily conforms to damaged or pitted flanges
• Low compressive load to seal
• Rigid design aids in inserting into tight flanges
• Can withstand compressive loads up to 40,000 psi gasket stress
• Professional engineering support
EZ Seal Gasket Sizing
INERTEX® EZ Seal Gaskets are available from inventory in 1″ through 12″ in ANSI 150# flange sizes.